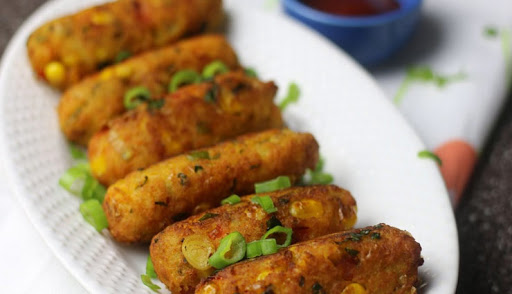 Paneer is an element of heaven to almost everyone, especially vegetarians. Besides being tasty and associated with some mouth-watering recipes, paneer is rich in calcium and protein. Also termed as cottage cheese, with this food item, you can prepare some amazing recipes for children.
Given below are three yummy paneer recipes for children that are easy to make and can be quickly done. Let's check them out!
1. Tandoori Paneer:
Ingredients:
Paneer cubes
Marinade and Greek yoghurt
Mustard oil and lemon
Grated ginger
Garam Masala
Garlic cloves
Dried fenugreek leaves
Chopped green chilli, and red chilli powder
Cumin seeds
Salt as per taste
Recipe:
Mix chilli, garlic and ginger in a blender and grind well.
Nicely cut some paneer cubes in a plate, apply the ginger-garlic paste to them and pour some lemon and mustard oil over it.
Add some yoghurt, mix well and allow it to marinate for an hour.
Place these cubes neatly in an oven tray and bake for about 15 minutes.
Once baked, skewer these paneer cubes with diced onions and bell peppers and barbeque them to make them slightly crispy at their ends.
Serve piping hot with green chutney and let the fun begin!
2. Paneer Pasta:
Ingredients:
Cooked pasta
Finely chopped paneer, onions and tomatoes
Ginger garlic paste
Tomato sauce
Red chilli powder and garam masala powder
Coriander leaves
Oil
Salt as per taste
Recipe:
Heat some oil in a pan and add onions and ginger-garlic paste to it. Sauté them until the texture becomes golden brown.
Add chopped tomatoes with tomato sauce to this.
Then add a few cubes of paneer to this mixture.
After a few seconds, add cooked pasta and mix well.
Change the flame from high to medium and stir until all the ingredients are mixed well.
Garnish with some coriander and grate some paneer over it.
Serve it solo or with some soup and enjoy the evening!
3. Paneer and Corn Kebab
Ingredients:
Crumbled paneer
Corn kernels and grated carrot
Finely chopped coriander
Raisins and cashews
Breadcrumbs
Green chillies and red chilli powder
Fenugreek powder
Aamchur powder
Oil
Salt as per taste
Recipe:
Put all the corn kernels in a mixer and grind them to form a powder.
Except for salt and cashews, add all the above mentioned ingredients in a big bowl.
Make tiny kebabs out of this mixture and add half a cashew to each kebab.
Refrigerate them for half an hour and then bake them for 15 minutes until the texture turns golden brown.
Serve them with green chutney or sauce. One among the most

simple recipes for kids

, your family will love this paneer item!
It is easier to indulge your kid in healthy eating when health is combined with his favourite dishes. Now that you know these amazing paneer recipes for children hit the kitchen and make your kid happy with lip-smacking paneer delicacies.